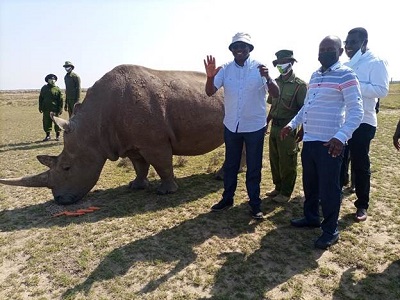 The Association hosted the Ministry of Labour  team led by  the Cabinet Secretary Hon. Simon Chelugui,  Chief Administrative Secretary Hon.  Jackson Kalla and the Permanent Secretary Hon. Eng. Peter Tum to Mt. Kenya  to address the challenges faced by our members in the Agricultural Sector.
The three days visit that started with a tour to Ol Pejeta Conservancy to see the two surviving Northern White Rhinos in the whole world was also meant to bring members in this region together to discuss all labour related issues.
Key among those issues discussed in a members' forum at Sportmans Arms Hotel Nanyuki were;NITA reimbursements, Labour costs,  Redundancies,  Proposal by The Pest Control Products Board (PCPB) ban a number of plant protection products,  NSSF Act and Increase of contribution by 6%, Taxes of agro-chemicals, VAT reimbursements which were extensively discussed and solutions offered where possible and others earmarked for actioning by both the Association and the Ministry.
History was also made as a curriculum for the Ranching sector was launched by the Cabinet Secretary. The curriculum which was developed by both the Association and NITA is meant to train employees in this particular sector and help develop and enhance their skills.
The visit took members to Lewa Wildlife Conservancy where all Directors in the Ranching and Conservation sector had a meeting with the Ministry to discuss further issues specific to their sector.
It is during this time that the team was taken to the Lewa Projects geared towards conservation and improvement of livelihoods of the neighboring communities and the projects visited were Lewa school and Manyangalo  Integrated Dev. Project.
It was important to note the opportunities the conservancy provides to neighbouring communities to maintain their traditional way of life in a modern and sustainable context through progressive and innovative livelihood initiatives.
The Association wishes to appreciate the following members who contributed in both cash and kind to make these 3 days events successful;
Lewa Wildlife Conservancy (LWC)
Ol Pejeta Conservancy
Northern Rangelands Trust(NRT)
Borana Conservancy
Ole Naishu
Lolldaiga Management
Loisaba Conservancy/Oryx
Segera Ltd
Equinox Horticulture