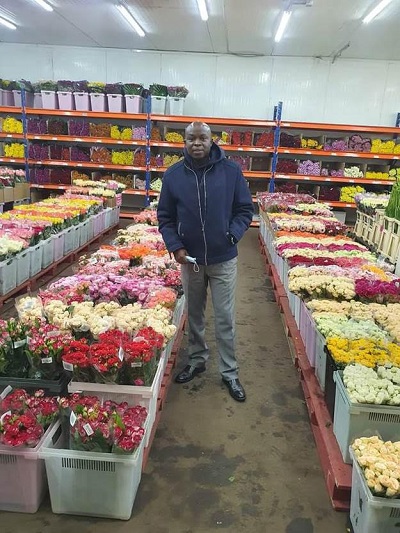 Russia is a key market for Kenya flowers. Association's CEO Mr. Wesley Siele, a team from Red Lands Roses led by General Manager Dr. Isabelle Spindler  are on a tour in Russia to familiarize with the flower market, understand the challenges therein for Kenya flower growers, interact with key buyers and understand their expectations as well as discuss with relevant authorities ways to make Kenya flowers more marketable.
Among the challenges faced are the fact that there are no direct clearing of flowers in Moscow hence importers are forced to go through Netherlands raising costs,  Artificial flowers from China beginning to take market share in Moscow and  Flowers from Equador/Colombia arriving in Moscow are much cheaper than Kenyan.
During the visit the team also paid a courtesy call on Kenya ambassador to Russian Federation H.E Ben Ogutu.
The team discussed on areas the ambassador can assist Kenyan growers to ensure more market share, ease of cargo movement through direct freights, promotional activities to create more awareness, and influence discussion on high cost of production that make Kenya products uncompetitive.
The visiting team took Ambassador to visit one of the key buyers and one key thing that was noted is that prices of Kenya flowers are high due to high cost of production. Kenya is ranked 4th after Equador,  Colombia and Netherlands.
Other issues addressed were Phytosanitary challenge at Moscow ports of entry whereby Kenya flowers are not cleared at the port hence have to take other routes like Lithuania.
The imposed customs duty on Kenya flowers by Ukraine was a topic for discussion and Cabinet Secretary trade together with the embassy committed to look into the issue and communicate the way forward.